Author: Prof. Lee, Si-Chen
I. Understanding Animal Language As a Child
During her childhood visit to the zoo one time, at the monkey section, Ms. T had suddenly heard a monkey ask another monkey, "Would you like to visit my home?" "Sure!" replied the other monkey. Then the two monkeys held hands and jumped to the cave at the back of their enclosure. When she went home, she also understood certain things that the papa bird was teaching his babies. However, her ability to communicate with the animals had only lasted for three months. Reminiscing this unusual experience, she was determined to become a veterinarian and to cure the animals of any pain or suffering.
This is akin to the unique man Gongye Chang from Shandong Province more than 2,500 years ago, who was rumored to be able to understand birds. He was incarcerated for this unique talent, and then again released for the same talent. He went on to achieve national merit and was highly praised by his teacher, Confucius. Ultimately, Gongye Chang went on to marry Confucius' daughter.
In September 2001, Ms. T returned to Taiwan from the United States for college. She wished to apply to the veterinary school at National Taiwan University (NTU), but the vet school was not accepting foreign students at the time, and as an American citizen, she could only study toward livestock research at NTU. However, her studies at NTU allowed me to conduct finger reading experiment with her on a monthly basis. By the time she left NTU to complete her university studies at the University of California, Davis in June 2004, I have already acquired sufficient data on the spiritual world, which is documented in my book, "Science of the Spirit World (Ling Jie De Ke Xue).
II. Appearance of a Second Spirit Master
Ms. T has always had a master ("Shi Fu") from a spirit world who looked after her and guided her since childhood. We also communicated with the master regarding questions on the universe, human civilization, and aliens from 2001 to 2003 through finger reading. Answers to which have been recorded in "Unbelievable: Searching for Gods' Websites (Nan Yi Zhi Xin: Xunfang Zhushen De Wangzhan)."》一書中。
In one of the questions, we asked the master, "When can Ms. T regain her ability to talk with the animals?" "Don't worry," replied the master. I was in a frenzy. She was already in college and wanted to pursue veterinary studies in the US. When could she understand what the animals were saying again?
And then something magical happened during her finger reading experiment on January 1, 2004. The experiment began at 10 o'clock on that day, but it did not go well (as shown in Image 1). She failed to read even simple numbers, and had reversed the light radical on the character for bright ("hui"; 輝). Past experience indicated we were met with spiritual interference.
As expected, the following experiment was also faulty. She had even seen a beam of light soaring about at the word "Buddha," Hence, I decided to end the experiment and proceeded to drive up to Chinese Culture University at Yangmingshan for the eyeball movement experiment in the afternoon. But my car's ignition failed to start even after twenty tries. Sweating profusely with anxiety, I had to ask for Ms. T's help. Sitting in the backseat, Ms. T asked her master what was going on.
After a while, her master replied, "You can do it now!" I turned my key, and successfully start the car! We drove up the mountain in a frenzy, worried that the car might stop at any time.
The experiment in the afternoon did not go well either. She could not see anything, and spirits had again come to interfere. I decided to stop all reading, and to communicate with the interfering spirit instead. I wrote a question (as shown in row 1 in Image 2), and a man gesturing an "X" sign with his arms wearing big, flowing Japanese-styled clothing was seen. He seemed upset, and he ignored my question.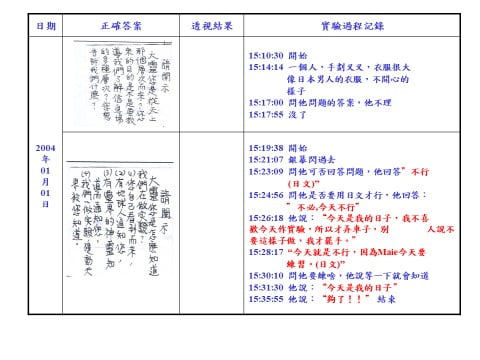 Then I asked a following question, as shown in row 2 in Image 2. I asked whether he could respond to our question,
The answer came, "No" in Japanese.」
I realized that we were dealing with a Japanese spirit. Then I asked, "Should we communicate with you in Japanese?"」
The answer came, "No. Not today."」
「「"Today is my special day. I don't want experiments today. That's why I messed with your car. Then someone else told me not to, that's why I stopped.」」
Turns out that he was the one causing the car ignition problem, and the car only started again after Ms. T's master urged him to stop.
He went on to answer, "We can't do this today. Because Maie (Ms. T's name) has to practice today"  in Japanese.
Question: "Practice what?" Reply: "You'll find out soon enough."」
「"Today is my day"」,「"Enough!"」
That was the end of our conversation.
Ms. T proceeded to talk directly with this spirit with her mind's eye without finger reading:
she asked:  "What do you want to teach"」
Reply: "The thing that you wish to learn the most."」
she asked: "To understand animals?"」
Reply: "Yes. Meditate before you go to bed tonight. Transmit all animals you saw today to your mind's eye. I left a message in one of them. Find that message. Your consciousness needs to pass through the animals' bodies."」
At that time, I was explaining to my student the ways that Master Sun Chulin can communicate with peanuts, so Ms. T asked the spirit,
「"Is Professor Lee right?" Reply: He is right.」
This spirit became Ms. T's second master. He entered our world while Ms. T had her mind's eye open for the finger reading experiment, and tried to get our attention in order to communicate with us and to become Ms. T's master. He began to teach her to communicate with animals, and Ms. T had formally acquired the ability to talk to animals after practicing meditation for one year.
Ten years later, in 2014, Ms. T graduated from the College of Veterinary Medicine at Purdue University in the United States and received her veterinarian license from California. She began her practice at a private veterinary hospital in Los Angeles and created many miracles. Dr. Dolittle, the fictional vet who could talk to animals, does truly exist! The field of veterinarian science will thereby significantly advance, enabling it to reach a brand-new stage.